About the work
Date of completion:
1 April 2020
Edition type:
Unique work
Copyright:
Copyright © 2021 MANA
License:
All Rights Reserved.
Provenance records
18 Aug 2021 Edit
The artwork has been edited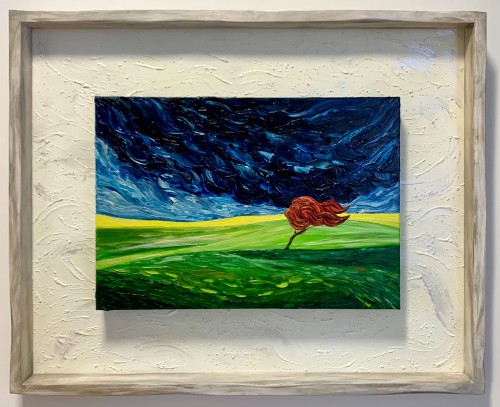 ---

MANA
Biography:
Cesetti Daniele, aka MANA, is an Italian artist that invites his viewers on a journey into a surreal world where reality is suspended and fantasy flourishes in landscape and portrait oil paintings on canvas. Movement is evident in the expressive planes of MANA's faces. Swirling clouds and fiery flora and fauna often sway rhythmically from side to side in effervescent environments. The pull of perspective leads to a place of prescient mystery often with the allure of sun-drenched horizons.

MANA's artwork explodes with highly charged yellows, blues, violets, reds, and greens. His system of saturated color suggests emotions that are simultaneously projecting ease and discomfort. Passionate and stormy revelations through a medley of motion, hues and form are reminiscent of bold works created by Vincent van Gogh, the Dutch post- impressionist, and subsequent early twentieth century Fauvists.